Written on 08-02-2012 by Nita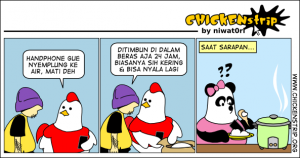 Diki or also known as Niwatori has been publishing his work, Chickenstrip, online under CC BY-NC-SA 3.0 license. Chickenstrip talks about IT and daily life – current national and international situation, opensource, newest issues in blogosphere and even simple things that happen in our daily activities.
To read Chickenstrip (comic strip in Bahasa Indonesia), you can refer to this link. You can also join Chickenstrip Facebook Page.
Source: http://chickenstrip.wordpress.com/
==
Diki atau dikenal dengan Niwatori memublikasikan ciptaannya, Chickenstrip, secara daring dengan lisensi CC BY-NC-SA 3.0. Chickenstrip mengangkat tema seputar IT dan topik keseharian – hal-hal yang terjadi di lingkup nasional maupun global, topik seputar opensource, isu terbaru di blogosphere hingga kejadian ringan yang dialami sehari-hari.
Untuk membaca Chickenstrip, Anda dapat mengakses tautan ini. Anda juga dapat bergabung dengan laman Facebook Chickenstrip pada tautan ini.